Second fibre optic cable link between Malta and Gozo was inaugurated by the prime minister Dr. Robert Abela late December 2020.
Joseph Cachia & Son Limited, a fully-owned subsidiary of the M. Demajo Group was appointed by Elettra TlC, a member of Orange Marine Group, as their local project co-ordinators and representatives in the Republic of Malta for the said project whilst being responsible for all terrestrial activities including terrestrial infrastructures and cable supply and installation.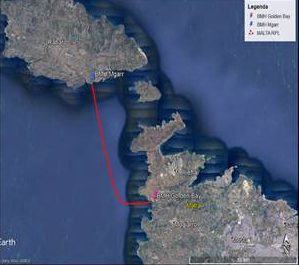 The cable was laid and will be operated by the government-owned Gozo Fibre Optic Cable Ltd, which has an operating arrangement with all three communications companies in Malta.Gozo has until now relied on a fibre optic cable rented from Enemalta. The second cable will add bandwidth to the island's internet connectivity and ensure connectivity for Gozo even if one cable is damaged.
Work to install the second cable had started in April 2019, following years of planning and preparatory work. The project had kicked off in earnest after a feasibility study found that stronger data connectivity could lure IT and other digital workers to Gozo.
The cable stretches from the Xewkija industrial estate and moves 3.6 kilometres to the shore at Tal-Fessej, limits of Mġarr ix-Xini. It then continues underwater for 13 kilometres, reaching Malta at Golden Bay before terminating 4.3 kilometres away at Żebbiegħ, Mġarr. The second cable would serve to attract investment in technology and gaming in Gozo, and also benefit other sectors such as health, education and industry in general.